Christine Giampaoli Zonca: a self taught automotive mechanic, mechanical engineer,  a rising rally driver,  a fierce competitor,  way nice enough to give AmaericanCarsAmericanGirl.com time for an interview and all this wrapped up in internationally beautful body and persona.
To really understand this article you need to know about the Canary Islands, where Christine lives.  They are a  Spanish archipelago located 62 miles from the coast of Morocco. The Canary Islands beaches, climate and important natural attractions, make it a major tourist destination with over 12 million visitors per year.
ACAG: I'm always amazed by someone who is multilingual. Are you fluent in anything else besides English, Italian and Spanish? I assume you are most comfortable with Spanish since the the Canary Island are a part of Spain
Christine:  I am actually Italian and I am equally comfortable in Italian, Spanish and (hopefully) English.  I went to University in England which helped me a lot!!
ACAG: The Canary Islands are quite the exotic and unique part of the world. They have great year around weather beautiful beaches and country side. Are there any down sides?
Christine:  Yes, the temperature is amazing!! But… It is a long way to travel to even mainland Spain, let alone anywhere else in Europe!
ACAG: You live on one island and race and another island etc. What are logistic of getting from island to island.
Christine: It can take a very long time to get around, without taking into account the expenses! At least I drive my own tow truck.. and so as my rallying career moves to the next level, which I hope it will,  I will probably need to re-locate!
ACAG: You race in the Canarian gravel Rally Championship series. Is that a professional or a serious amateur series?
Christine:  It is professional and the standard is actually very good!
ACAG: In 2016 you're moving up from the Toyota (FWD class 1.6) to the Subaru (AWD class 4×4 2.0 ).  I would assume you will be competing against a higher skill level of driver?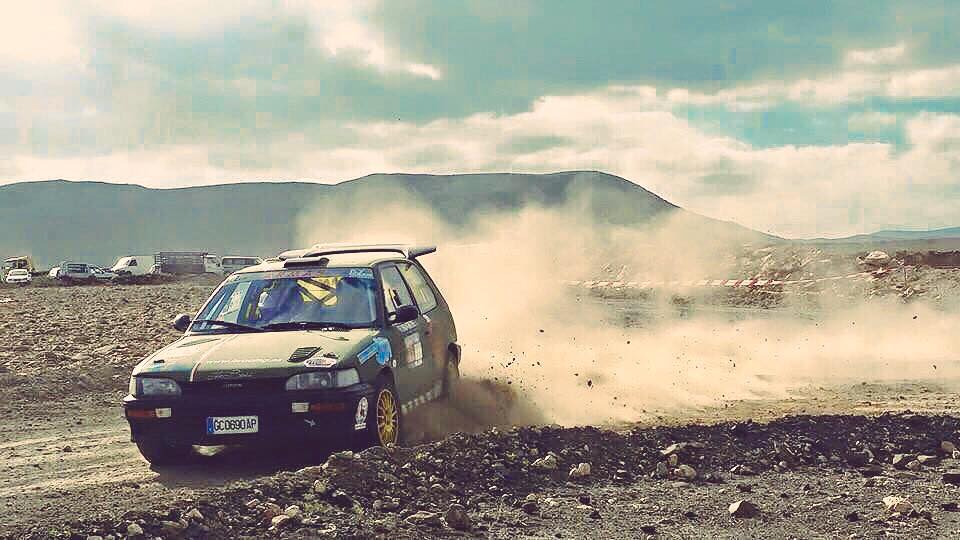 Christine:  I think the skill of the driver is not necessarily changing but the power of the car, and the four-wheel driver,  means that it is mostly far more experienced drivers that I would be competing against.  There is a massive difference between the two cars… I'm really excited for this change.(pictures are Christine with her new Subaru).
ACAG: By the way, what's going on with the Peugeot pictured on you Facebook
Christine: They are one of the works teams I am in talks with for the longer term future but it is far too early to know if I will be fortunate enough to secure a deal with them.  I really hope so!
ACAG: The thing about you that amazes me the most is the amount of  mechanical abilities that you acquired in such a short time and learning it pretty much on your own. Roughly what percent of the mechanical work do you do on your rally cars?
Christine:  I do an awful lot! This is something I have worked on for many years.  When I was a young girl my parents thought I was out playing volleyball  – when in fact I was working on cars! I also have a degree in Motorsports Technology so I think what is unique – and will hopefully help me attract some much needed sponsors and support –  is that I am a female mechanic, engineer and driver! But that isn't enough of course… I really enjoy the work but I have so much to learn yet.
Read the full article on Americancarsamericangirls.com.