CHRISTINE GZ'S BIOGRAPHY
Who's Christine Giampaoli Zonca
Christine GZ  is one of the world's fastest drivers. Fluent in English, Italian & Spanish, Christine truly is one of the world's most adaptable drivers both on and off track. Specialising in Off Road driving, Christine is signed to Carl Cox for Extreme E's third season in 2023.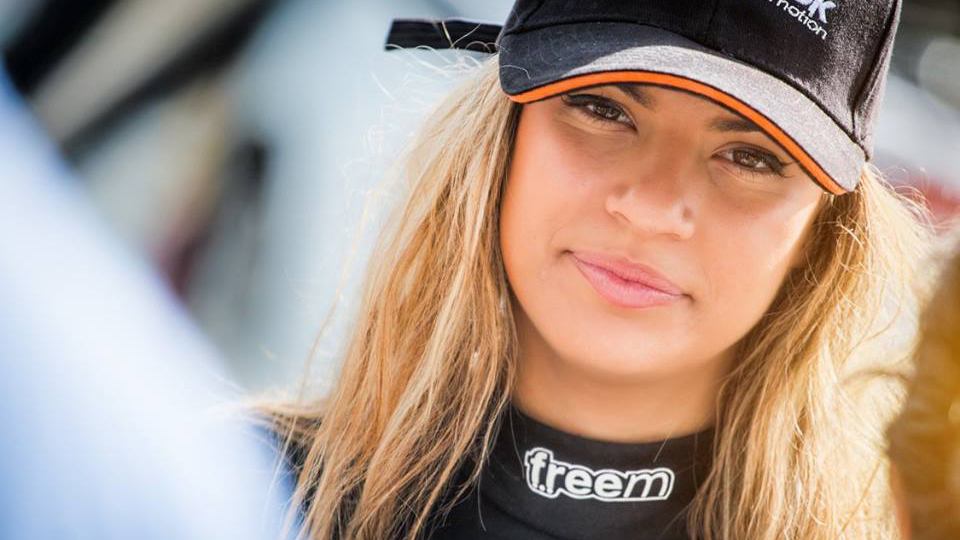 The day she met Lolla (this beautiful Rally Corolla from 1989), she knew that was going to be her life. She wanted to start rallying but, she also realised it was a very expensive sport.
GZ begun her career late, as it was very hard to "start from scratch". She started by helping out at the neighbour's garage, as mechanic, and slowly stepped up to buying her own chassis of a Golf (MKII) from 1988. Finally she sold it and bought her dream rally car: the Lolla. She raced the Toyota for two years, winning the Overall Championship of Canaries (FWD) in 2014. Her following project arrived quickly, where she converted her street legal car (Subaru Impreza GC8) into a full gravel spec rally car group N. Meanwhile, GZ left the islands to earn an accredited Bachelors Degree. She graduated in the University of Birmingham, Motorsport Engineering Tech.
Christine's dream is to be keep racing as professional athlete and keep growing in her career and experience to become the best driver in her discipline. Her motto is "Never give up!"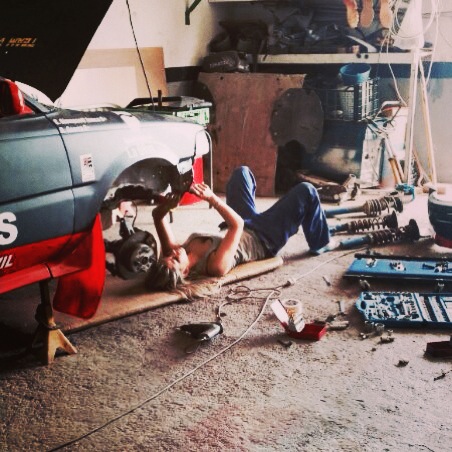 2014
This is Christine's first full season of rallying where she competed in the Canarian Championship finishing all rallyes in her homebuilt FWD Toyota Corolla AE92.
Her pace and consistent performance, finishing every round , gave her a well deserved win of both the Championship of 2WD, her category (B4) and the Provincial Championship too.
2015
As well as finishing her degree in England (Motorsport tech Eng.), Christine returned to the Canarian Gravel Championship, unfortunately this time suffering a few mechanical failures but still only scoring 6 points less than 2014 and finishing second in her class.
Her performances caught the attention of many people and teams within the rally world, this year she was contacted by the Official Peugeot Team from Barcelona (Mavisa Sport) to participate in the final round of 'Mujer y Motor' programme, an initiative by Spanish Automobile Federation to select a female rally driver in a 2-year programme. Even with little experience she managed to finish in 2nd place, and the team offered an opportunity to participate in a National Rally in Malaga (south of Spain).
This debut in the Spanish rally championship caused a big impact on Spanish media and created even more interest in the Peugeot team, that decided to work on a collaboration with the driver in future.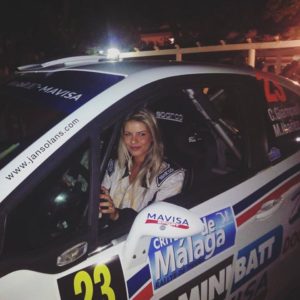 2016
This year was a development year for GZ,  her objective was to maximise her brand and improve her driving skills ahead of a full competitive season of professional rallying in 2017 (whilst competing again in the Canaries). GZ has more experience rallying on gravel, but to fulfill her desire to become the best driver, she had to increase her exposure on tarmac too; she worked hard to find sponsorship and managed to take part in various important events (such as the Rally of Madrid and WRC Spain which is mixed).
This was now the third season in rallyes, where she worked on a new project, to upgrade from a 2WD to AWD, competing again in Canary Islands, with a Subaru Impreza GC8, prepared by herself.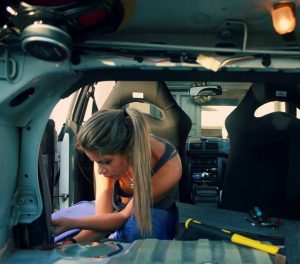 Meanwhile, she kept looking for opportunities further than within the islands after the amazing experience at the end of the previous year. Finally, after some good results in the islands, she gets the call of an italian team to compete in Ralle Rose 'n Bowl in San Marino, where she finished her first tarmac rally in a Ford Fiesta ST N3. 
Furthermore, after getting the interest of some companies to sponsor her, she closes a partial programme in Spanish Championship With Mavisa (that kept following her and had the support of Peugeot Spain), creating a full female team (even coordinators, mechanics, and engineer) and finalised her year with a dream come true: participate in one of the World Rally Championship event! The Rally-RACC Catalunya.
At the end of this incredible season, the full-female team, manages to Win the Spanish Gravel championship (Fem. cat).
The year ends with a race in a Twingo R2 in the island of Lanzarote (invited by another team from mainland Spain).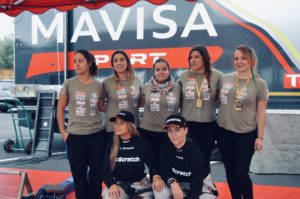 2017
GZ now wanted more. She starts working on sponsorship deals to start her growth to a European Championship. After months of work with Audi as driver instructor, and attending various events (such as the NEC Autosport International, in Birmingham) working as engineer and trying to find her budget to compete… her career suddenly takes off on a different path.
Dynamic Racing, Off-road team based in LA, California was searching for a lead driver. GZ accepts the challenge.
Her first race in the American (BITD championship), was UTV World Championship, where she demonstrates her potential with a 10th place finish in her first race ever in this discipline.
With an ambitious sporting programme, she participates in important races such as BAJA 500 in Mexico, Pure 100, pure 100 Twiilight, Vegas to Reno, and the peak of the season in UTV: Baja 1000, one of the most famous and toughest races in the Off-road world.
Meanwhile she competes in USA she doesn't give up on rallying, and takes part in the Rally Ciutat de Cervera (also part of the National Championship), and consecutively the Rally-Racc of Catalunya (WRC event).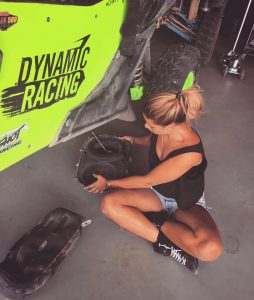 2018 
Christine GZ continues her program with her American team, racing in both BITD (Best in the Desert, American Championship) and Mexican SCORE International too: participating in all the biggest BAJA's of Mexico and the most well-known races in American (such as the Mint 400 or Vegas to Reno).
GZ, moreover, participates to the Sonora Rally (part of the "Road 2 Dakar" project), with another well known off-road Mexican team (Monkey business), achieving a strong overall win for two days of Rally.
Meanwhile, as internationally recognised Driver, she receives more proposals to race in Europe. With the calendar possibilities, they accept to participate to two races of the World Cross Country Championship: Baja Portalegre 500 (Portugal) and Baja Spain (both FIA WORLD CHAMPIONSHIP).
Finalising in a strong 10th position overall in the Baja Portugal (as first event ever within the FIA Championship), the team invites the driver to attend more events of the Spanish Championship too.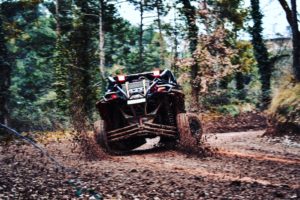 2019 
GZ's keeps racing in US and Mexico with Dynamic Racing, obtaining some great results within the championships, such as Baja 1000 (6th place), and starts working on another big project for 2022, Dakar.
In between the overseas races, GZ also participates in a Rallycross race with a Carcross invited by the official YA CAR team from North of Spain, and other events such as the Penafiel Racing Fest (in Portugal) as VIP invited guest.
This is also the year that Christine GZ becomes brand ambassador for Can-am BRP worldwide. During the year she attends to 3 events in South America, creating content for brand and presenting the launch of the new competitive vehicle 2020 Canam X3.
2020
This year GZ started by working with Audi Spain and the hotels Melia to test the new Audi E-tron in the island of Mallorca.
After that, she attends an event in the track of Ascari (south of Spain), to test the race car Radical with Radical Iberia team. Then, she flies back to Los Angeles to race the Mint 400 in Vegas with her current race team, Dynamic Racing.